THE NEW WAY TO VISUALIZE TRAILS, MORE VISUAL AND INTERACTIVE. WE CUSTOMIZE IT TO THE NEEDS OF YOUR EVENT.
COMPATIBLE WITH iOS, ANDROID AND VR GLASSES (WEB XR). AND WITHOUT DOWNLOADING ANY APPS.
MARKETING TOOL WITH HIGH IMPACT FOR SPONSORS AND LOCAL BUSINESSES.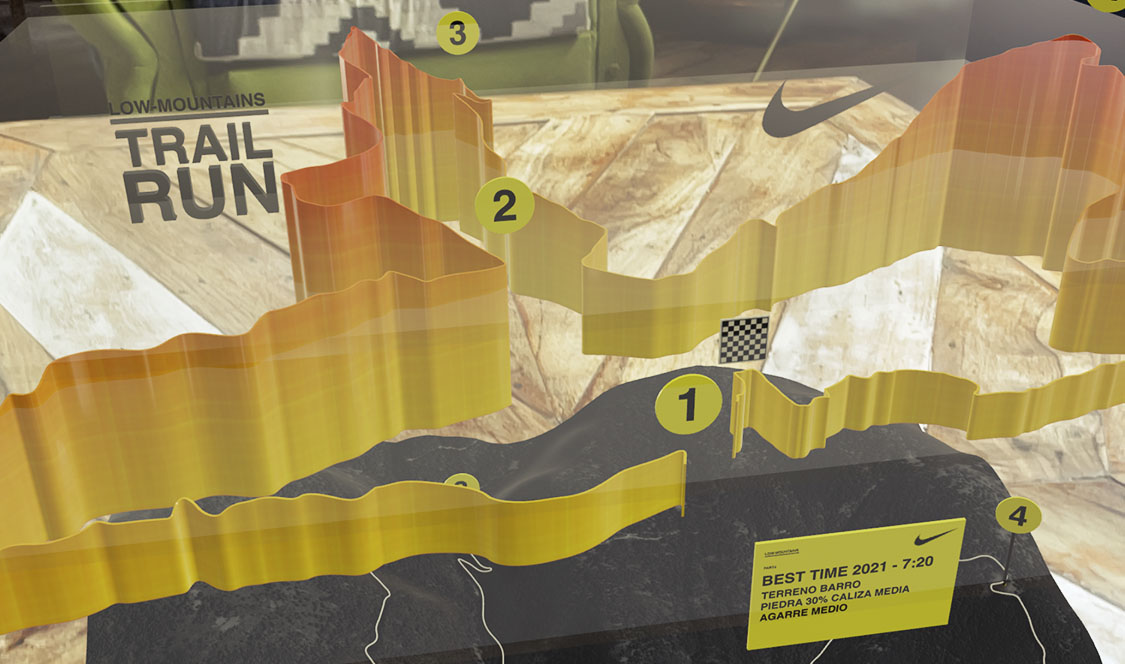 WE GENERATE 3D AND 2D PROFILES WITH REAL TRAIL VISUALIZATIONS.
SCANNING SPONSOR PRODUCTS IN PHOTOREALISTIC 3D


DO YOU WANT TO HAVE YOUR TRAILS IN AUGMENTED REALITY?

At Ártico Team we develop your trails in augmented reality (AR) In an easy and fast way. You just have to follow the next steps.



1
MAP GENERATION

We generate the 3D map where we are going to place your event. Tell us your location, whether it is a city, a rural area or a mountain. Ártico Team will generate several viewing styles for you to choose how to see the terrain where your event will take place.



2
CREATION OF THE CIRCUIT

Give us a 2D map of the circuit or circuits so that, for example, if a race as a 80K, 30K and 10K we can put them on the same map in order to visualize the differences between the races. Should a circuit be divided into sections, Artico Team will program the AR tailored to your needs.



3
KEY POINTS OF THE EVENT

In the race there are always places to mark on the map: names of towns or geographical features, provisioning areas and other spaces such as start and finish, info area, space for concerts, etc…
We can also create a button with sponsoring businesses or places of interest: restaurants, hotels, tourist areas...



4
GENERATION OF 2D AND 3D PROFILES

We will create the profile of the race routes in 2D and 3D, in which you will be able to mark specific areas. Attendees will be able to see and analyze the route from all angles accurately. The design of the race profile will be adapted to your organization's branding specifications.



5
EXTRA RACE INFORMATION

Within the circuit, different information can be used to notify about the terrain in each sector. It can be through texts, icons or audio.
By clicking on a specific area of the race, for example, a steep hill, texts or icons will appear or audio will play with giving information about that section. Ártico Team will be in charge of recording the audio and integrate them into AR.



6
OUTSTANDING SPONSOR POSITIONING

Event attendees will view and analyze the race in the AR, so this space will have a high advertising impact. It will be where the sponsor's logos will be located.



7
PRODUCT SCAN

If you have merchandising related to your event, Artico Team will take care of scanning them and optimize them in photorealistic 3d and add them to programming.
If you already have your products scanned in 3D, we would only have to optimize them for its output in AR.
It is also possible to obtain a hyperlink to the online store where the featured product can be purchased. For this we will embed a banner.